Interactive Smart Touch Board / White Board
Interactive Smart Touch Board / White Board
65000/-
Product No: 349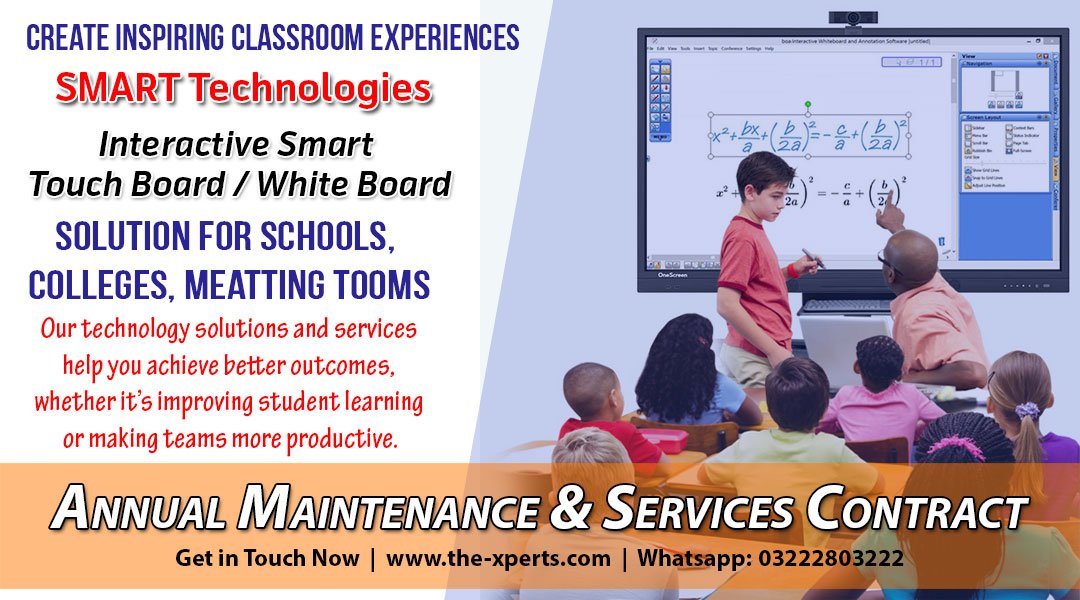 Board size :84" diaognal size, IR technology, multi touch with accessories including 2 pens and one teaching pinter + android learning softwares with one year local warranty.
Multimedia : Epson, Hitachi, Epson and Sanyo. New lamp with One year warranty 3 months lamp and one year parts warranty.
Price. 85,000 all around Pakistan. + traveling to any city (petrol charges) +2000 installations cost. Training free.
infrared smart whiteboard system Harware Features
1) Whiteboard material: Imported PET material, matt surface
2) Screen surface: The hard-coated steel surface is durable, optimized for projection, compatible with dry-erase markers and easily cleaned with whiteboard cleaner. Green, Environmentally friendly.
3) PCB finish: All the electronic parts are finished by SMT, therefore, the PCB looks clean and tidy and functions stably.
4) Wall-mount bracket: Four M8 screws and toggle bolt anchors (two upper/ lower frame, adjustable) to support a wall-mounted interactive whiteboard.
5) Portable stand: Available for different sized interactive whiteboard
6) Computer connection: 16' (5 m) USB 2.0 cable, Plug and play, no need to install driver or server to run the whiteboard.
7) Power requirements : Power consumption is less than 7 W (USB 5V voltage, current < 100mA).
8) Plug and Play, no need to install driver
Infrared smart whiteboard system Software Features
1) Touch and gesture: Perform mouse functions with your finger: to write, click and right click. Recognize guestures: fist gesture to earase, two fingers(one hand) touch to move and two fingers (two hands) touch to zoom in and out of images.
2) Resolution: Touch resolution is 8192 × 8192
3) Smooth writing, without any breakpoint or sharp curve
4) Compatible with Win, Mac OS, Linux and Android
5) Interaction functions: To use any type of computer and projector to make up interactive e-educational environment
6) Short cuts on both sides of the whiteboard, convenient to operate.
7) PPT import and editable.
8) Save Interactive whiteboard data as Doc., Picture, PDF, HTML, PPT, etc.
9) Whiteboard data can be printed
10) For modes(Teaching mode, Annotation mode, Design mode, Control Mode) satisfy different needs.
11) Insert function: Insert Table, Function, Image, Video, Audio, Flash, Text, Link, Lines, Shapes, etc.
12) Multi-tools: Different kinds of tools to choose from including Pens, Erasers, Sportlight, Curtain, Clock, Keyboard, Camera, Video/Audio recorder, Magnify, etc.
13) Math tools: Including Calculator, Ruler, Compasses, Set square, Protractor, etc.
14) External tool: Allow you to add any EXE. File to the whiteboard to achieve interactive environment.
15) Resource library: Abount teaching resources, you can also add by yourself, convenient for teaching.
Technical Specifications for infrared smart whiteboard system
Touch Features
Operating Principle: Infrared Induction Technology
Positioning Accuracy: <2mm
Cursor Blink Rate: 120 Dots/Second
Resolution: 8192 × 8192
Response Time: < 8ms in continuous writing practice
I nduction Size: > 3.0mm, Recommended Size:> 5.0mm (Diameter)
T ouch Spot Life Span: Over 60,000,000 times single spot touch